Sponsored by: Community You Can Believe In
Community You Can Believe In
About Beth El
More than 60 years ago, a group of young couples gathered to create a new synagogue in the growing community of West Hartford. They envisioned an egalitarian synagogue filled with ruach (spirit), a place where people could make meaningful connections through celebration, friendship, ritual, learning and action. Children would find a home here and grow into knowledgeable and caring Jewish adults. Beth El would be a sanctuary in all sense of the word, a place of community and also a place where each of us could find shelter from the day-to-day to think about "the real stuff of living."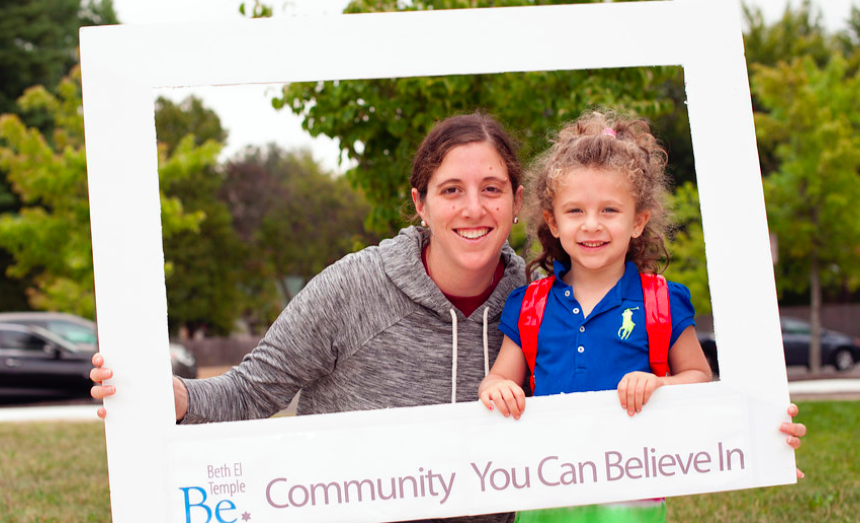 Rabbi Stanley Kessler was invited to lead the congregation and he has been a vital part of Beth El ever since. Rabbi Jim Rosen took over rabbinic duties in 1992, joined in 2000 by Rabbi Jennifer Tobenstein as our first Associate Rabbi. In 2005, Rabbi Ilana Garber succeeded Rabbi Jen.
Today, Beth El remains true to its roots: a diverse, family-friendly community embracing people of all ages and backgrounds, Jews and their non-Jewish partners, and people of all of sexual orientations, genders and sexual identities.
The Beth El Mission
Our mission and vision come from nearly a year of conversations with members of our congregation, our board of trustees and our professional staff:
In everything we do, we work to create and sustain a vibrant, informed and engaged synagogue community – today and tomorrow. Our goal is to build community and deepen personal engagement through learning, caring and spirit.
Beth El Temple's 13 Core Values and Principles
A set of core values underscores who we are and what we do:
We are a community of communities (Beth El, Greater Hartford, Global) • Learning as Fundamental • The importance of Jewish Values and Ethics • The Centrality of Worship and Observance • Personal and Spiritual Growth • Tikkun Olam (Repair of the World) • Acceptance and Inclusion • Innovation and Tradition • Intergenerational Engagement • Supportive Pastoral Care • Celebration and Spirit • Support for Israel • Core Conservative Philosophy
From New Babies to Educational and Family Programs to Mitzvot, our Men's, Women's, Senior and Youth Programs, Services and Lifelong Learning Experiences, we are here to encourage and support you on your journey. You'll find us a phone call away: (860) 233-9696.
Thu, April 2 2020
8 Nisan 5780
Upcoming Events
All Events
Thursday

,

Apr

April

2

,

2020

Cancelled: Updates from Israel: Latest Developments in Cancer Research, Revitalizing the Land and Robotics


Thursday, Apr 2nd

7:00p

to

8:30p




**This event has been cancelled out of an abundance of caution.** Enjoy learning about these latest developments while sampling delicious Israeli wines and kosher cheeses. Our guest speakers are: Dr. Mark Israel, National Executive Director of the Israel Cancer Research Fund. Dar Nadler of the Jewish National Fund Haim Dribin and his Roboner students from the Misgav Regional High School

Friday

,

Apr

April

3

,

2020

Postponed: Direct from NY: a Spirited B'nai Jeshurun-style Shabbat Service


Friday, Apr 3rd

7:00p

to

9:00p




**This special service is being postponed out of an abundance of caution. We look forward to rescheduling this event when guidance from health officials suggests it is wise to do so. Come to an evening of singing, with guitar, clarinet, and accordion. This Erev Shabbat Service with virtuoso instrumental accompaniment will be in the style of the B'nai Jeshurun Synagogue in Manhattan. Music that hopefully brings us closer to God, to each another, and to our spiritual yearnings.

Monday

,

Apr

April

6

,

2020

Serve a Meal with Loaves & Fishes Ministries


Monday, Apr 6th

10:00a

to

12:45p




On the first Monday of each month, a group from Beth El helps prepare and serve a meal in conjunction with the Loaves and Fishes Ministries Soup Kitchen. It's a chance to share our bounty and spend time with our Hartford neighbors, and a chance to catch up with each other. We welcome new participants. For more information, contact Ellen Solomon at (860) 648-0300 or email at Gingy81434@hotmail.com.

Wednesday

,

Apr

April

8

,

2020

Fast of the First Born Breakfast


Wednesday, Apr 8th

8:00a

to

9:00a




From MyJewishLearning.com: The sunrise to sunset ta'anit (fast) bekhorim (of the firstborn) is the only fast that applies to just a segment of the community: all males who are the firstborn children in their families (if the firstborn child is female, the first son born after her is not obligated). The father of a child too young to fast fasts for him, and if he himself is bekhor, the mother fasts for the child on the day of Erev Pesach [the day in which Passover begins at nightfall]. Since it is forbidden to abstain from eating on Shabbat (except for Yom Kippur), when Erev Pesach falls on Saturday night, the fast takes place on Thursday. There is a widely practiced exemption: On the principle that fasting is prohibited on a joyous occasion, Judaism allows for anyone who attends a religious feast to forego fasting. It is customary to hold a celebratory meal on the completion of study of a tractate of Talmud, called a siyyum (conclusion). So rabbis initiated the practice of studying a portion of a Talmud tractate after morning services, held especially early on Erev Pesach. All the firstborn are invited to be present for the conclusion and share cake and schnapps afterward, considered a seudat (meal) mitzvah (in honor of a commandment; in this case, studying the Torah).
Thu, April 2 2020 8 Nisan 5780