Sponsored by: Community You Can Believe In
Community You Can Believe In
About Beth El
More than 60 years ago, a group of young couples gathered to create a new synagogue in the growing community of West Hartford. They envisioned an egalitarian synagogue filled with ruach (spirit), a place where people could make meaningful connections through celebration, friendship, ritual, learning and action. Children would find a home here and grow into knowledgeable and caring Jewish adults. Beth El would be a sanctuary in all sense of the word, a place of community and also a place where each of us could find shelter from the day-to-day to think about "the real stuff of living."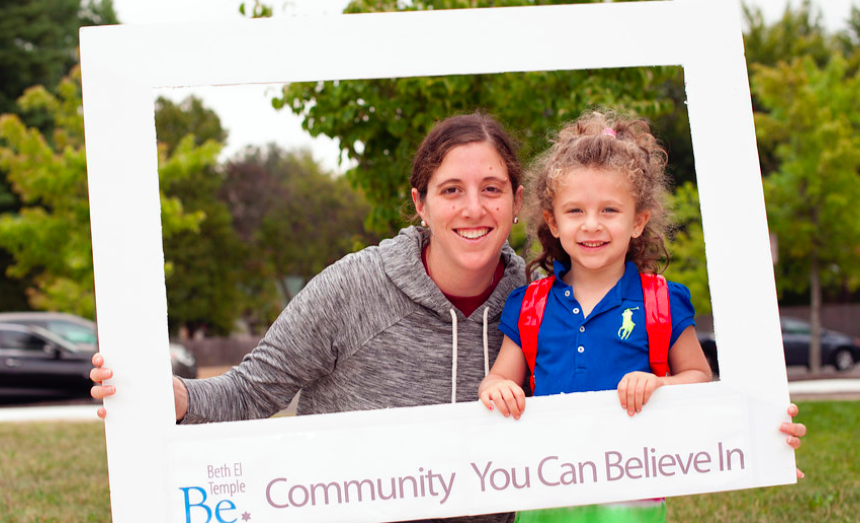 Rabbi Stanley Kessler was invited to lead the congregation and he has been a vital part of Beth El ever since. Rabbi Jim Rosen took over rabbinic duties in 1992, joined in 2000 by Rabbi Jennifer Tobenstein as our first Associate Rabbi. In 2005, Rabbi Ilana Garber succeeded Rabbi Jen.
Today, Beth El remains true to its roots: a diverse, family-friendly community embracing people of all ages and backgrounds, Jews and their non-Jewish partners, and people of all of sexual orientations, genders and sexual identities.
The Beth El Mission
Our mission and vision come from nearly a year of conversations with members of our congregation, our board of trustees and our professional staff:
In everything we do, we work to create and sustain a vibrant, informed and engaged synagogue community – today and tomorrow. Our goal is to build community and deepen personal engagement through learning, caring and spirit.
Beth El Temple's 13 Core Values and Principles
A set of core values underscores who we are and what we do:
We are a community of communities (Beth El, Greater Hartford, Global) • Learning as Fundamental • The importance of Jewish Values and Ethics • The Centrality of Worship and Observance • Personal and Spiritual Growth • Tikkun Olam (Repair of the World) • Acceptance and Inclusion • Innovation and Tradition • Intergenerational Engagement • Supportive Pastoral Care • Celebration and Spirit • Support for Israel • Core Conservative Philosophy
From New Babies to Educational and Family Programs to Mitzvot, our Men's, Women's, Senior and Youth Programs, Services and Lifelong Learning Experiences, we are here to encourage and support you on your journey. You'll find us a phone call away: (860) 233-9696.
Wed, November 13 2019
15 Cheshvan 5780
Upcoming Events
All Events
2021 Bar & Bat Mitzvah Meeting


Wednesday, Nov 13th

6:30p

to

7:30p




Parents of 2021 Bar/Bat Mitzvah learners, please join us as we officially kick off your journey to Bar/Bat Mitzvah & Beyond. Wednesday, November 13th, at 10am or 6:30pm. Please email Liz (edepalma@bethelwh.org) to let her know which session you will attend.

Challah for the Homebound


Thursday, Nov 14th

9:30a

to

12:30p




Interested in making challah for our Beth El members who are stuck at home due to illness, injury, or mobility challenges? Rabbi Garber is looking for volunteers to join in her challah baking workshop. Participants will get one challah to take home and will make the rest for our members. Volunteers will be asked to deliver challah as well. Free and open to all – but please email Liz DePalma (edepalma@bethelwh.org) to save your spot. Space is limited and we will cancel if we do not have volunteers. Future Date: August 1

Axe Throwing with Men's Club


Thursday, Nov 14th

7:45p

to

10:00p




Please join us for a fun evening enjoying the latest craze – Axe Throwing, a (non-)sport in which the competitor throws an axe at a target, attempting to hit the bull's eye! It is often compared to dart throwing, except with an axe! With 7 pits, 8000 square feet and a brand new Street Curling pit, Montana Nights is the largest axe-throwing facility in New England. We will be providing refreshments; beer and wine available for purchase. Cost: $25 RSVP by 11/7 to David Finitsis (860-790-7195 or davidjfinitsis@gmail.com).

Temple Trivia Throwdown


Motzei Shabbat, Nov 16th

8:00p

to

11:00p




Join us Saturday, November 16th at 8pm for TEMPLE TRIVIA THROWDOWN! Featuring Rob Guilmette, professional trivia master and DJ! Beth El members are welcome to invite non-members to join their teams. Tickets are $25 per person and include beer, wine and other drinks, snacks and desserts, and live entertainment. To secure your seat with early-bird pricing of $25/person, register online by November 1st at 2:30pm.
Wed, November 13 2019 15 Cheshvan 5780